E-Bikes from Amanohashidate
The original scenery of Japan is there.
E-Bike is the best tool to explore there.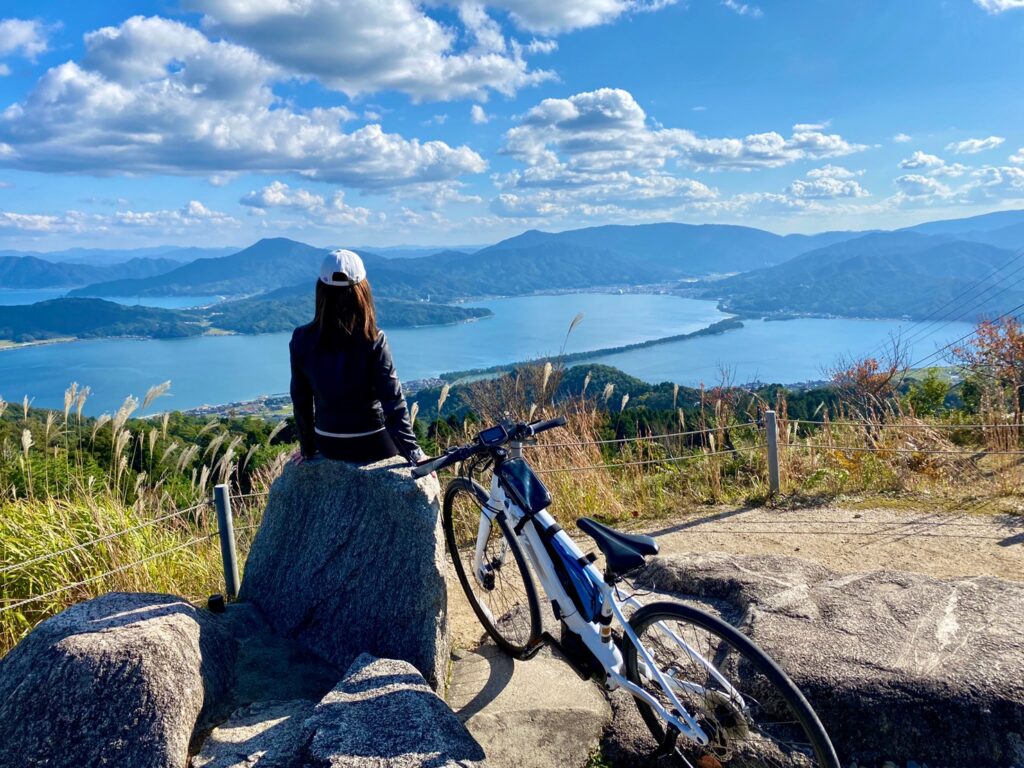 "Japan's most beautiful place"
Amanohashidate has long been called one of the three most scenic spots in Japan.
It has been worshiped as the most important place of pilgrimage for over 1000 years and a very famous place as a longing place for Japanese people.
It's a waste not to cycling.
You can enjoy a view that is not possible through the glass, feel the wind and sounds, and stop whenever you like.
This 50km coastline is a world with a very unique culture and beautiful scenery. Driving too fast and walking too slow to enjoy this.
And of course the best views come from high places. In other words, the optimal solution is the E-Bike.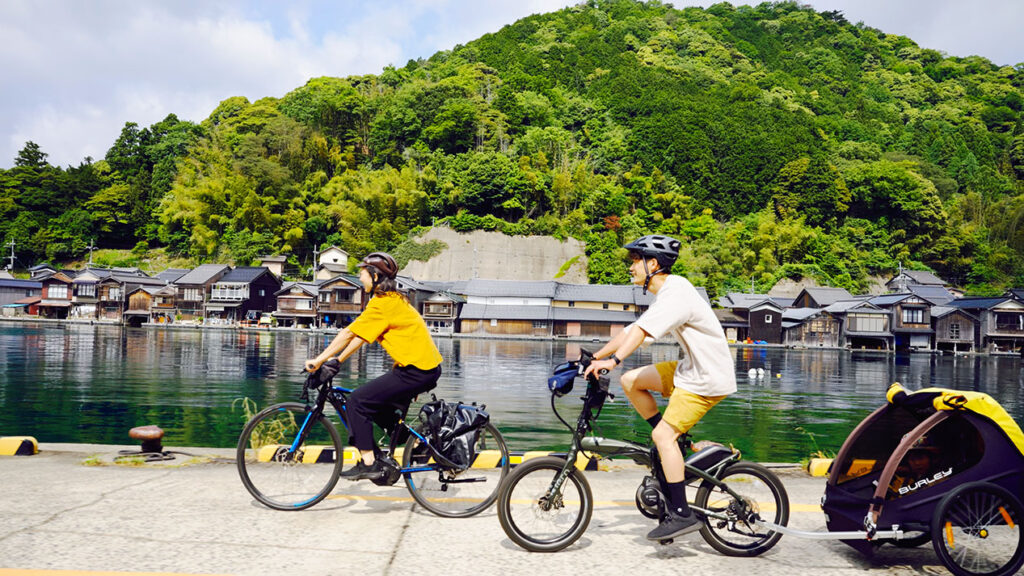 Recommended Cycling Course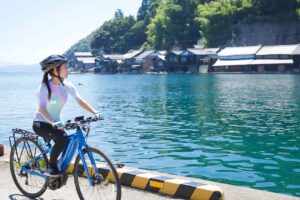 [For Beginners] Distance 20km(Oneway)/
Touring time 1h(Oneway)/ Cumulative elevation 104m/ Rental spot: Amanohashidate
Weather for the Following Location:
Maizuru
4000JPY / 1day
8000JPY/ 3 days
16000JPY/ 7 days
=$27 / 1 day
=$55 / 3 days
=$109 / 7 days
=€25 / 1 day
=€51 / 3 days
=€101 / 7 days
Searching Availability...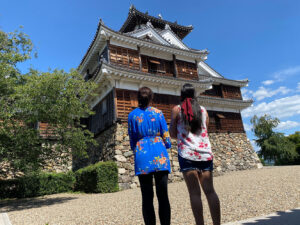 Fukuchiyama is the largest town in northern Kyoto and is connected to Kyoto, Osaka, Kobe and Toyoka by railroad and highway.
The castle was built over 400 years ago, and the castle and castle town still remain in the hands of the residents.
*is selected by E-Bike type
Model Travel Plans with E-Bike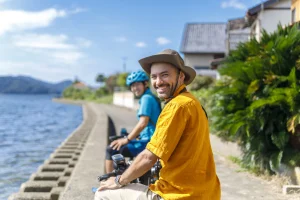 E-Bike Adventures around the Tango Peninsula
To journey to the Tango area is to truly discover another side of Kyoto. Facing the emerald waters of the Japan Sea, the region is blessed with some incredible coastal scenery and has a history that predates the ancient capital of Kyoto by thousands of years. For exploring this maritime land, nothing beats the comfortable saddle of a nippy electric bicycle...
Term
E-Trekking Bike/ E-Multiuse Bike
E-Road Bike/ E-Mountain Bike
Half day
Reservation not accepted
*please check at the store on the day
Not available
1 day
¥4,000
¥5,000
2 days
¥6,000
¥8,000
3 days
¥8,000
¥11,000
4 days
¥10,000
¥14,000
5 days
¥12,000
¥17,000
6 days
¥14,000
¥20,000
7 days
¥16,000
¥23,000
| | |
| --- | --- |
| Helmet | free |
| Smartphone holder | free |
| Rear Rack & Rubber Band | free |
| Pannier bag | ¥300 |
| Charger for E-Bike | ¥500 |
| Child Seat Attachment | ¥500 |
| | |
| --- | --- |
| Emergency Resque Service | free *only if you can be chatted via App or SMS |
| Luggage Strage | ¥500/day |
| One Way Rental | ¥1500~¥2500/bike *depend on place |
| Luggage Transport | ¥2000 each *next day delivery |
| | |
| --- | --- |
| Before booking time | free |
| After booking time | 100% |
Please pay the fee at the store when you rent. You can pay with either cash or card.
Usable Cards;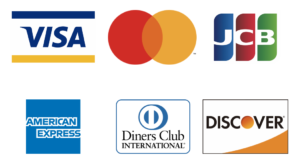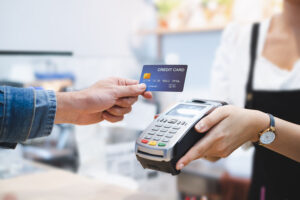 Recommended Restaurant & Cusine with Cycling
Tango peninsula has rich fishing ground and vegitable field to thank for clean sea and watar.
As for seafood, various fish come in the gulf and its SUSHI is incomparably delicous than any restaurants in urban area. Especially the yellowtail (Buri in Japanese) is popular.
And there rice and Sake (Japanese alchole) is very delicious, so many cyclists in Japan love to eat fresh seafood and drink sake after hot spring and cycling when they ride in Tango.
Accommodation
Recommended Accommodation friendly to bicycle
Accommodations in Amanohashidate
Amanohashidate has been well known sightseeing spot for Japanse since several hodrets ago, so there are many hotels around there. You can easily find in OTA service.
Accommodations in Ine
* Most accommodations in Ine is small and don't resister in popular OTA service such as Booking.com and Expedia. It's better to search in the website of local tourim association. Also they provides mediation service in English.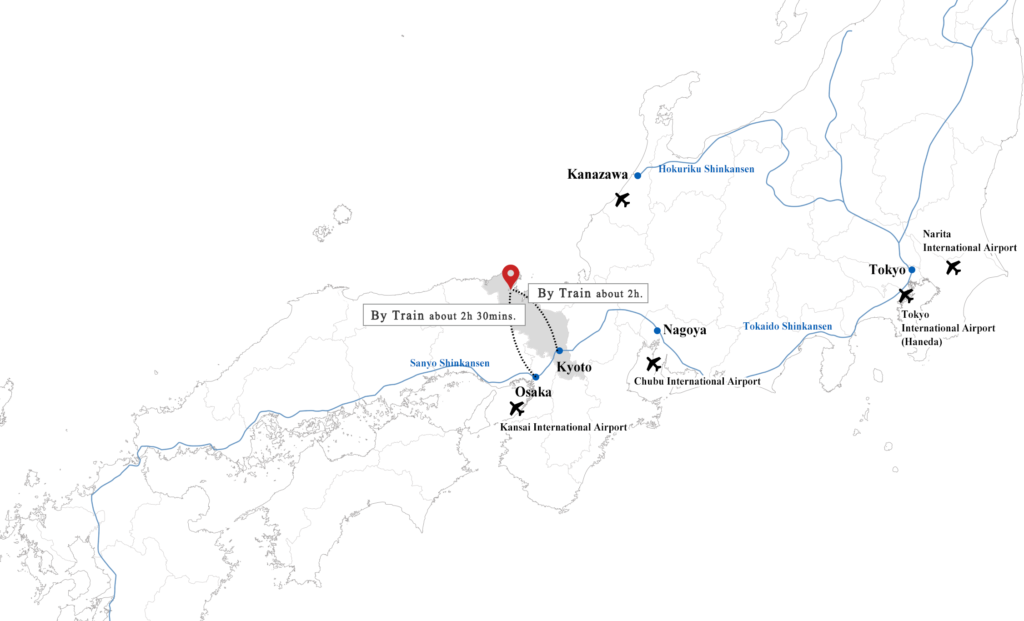 Exchange calculation tool
News & Information
Instagram