10 Recommended Spots in Ine & Model Course
Ine is a very attractive place, but until 10 years ago it was seen as just a fishing village and not a tourism spot. As a result, No guidebooks tell you how to explore this unique town. This time, from my perspective as a resident of Ine, I will introduce recommended spots for foreign travelers.
1. Ine Information Center
If you come by bus, most people will get off at the bus stop "Ine" (If you rent our E-Bike, you need to get off at the bus stop "Hide Kotsubo" in front of it). There is an information desk right next to it.
There are English-speaking staff at the information desk, and they will guide you to open restaurants and spots. Maps and guidebooks are also available, so we recommend going there first.
Coin lockers, private toilets, and USB chargers are also available.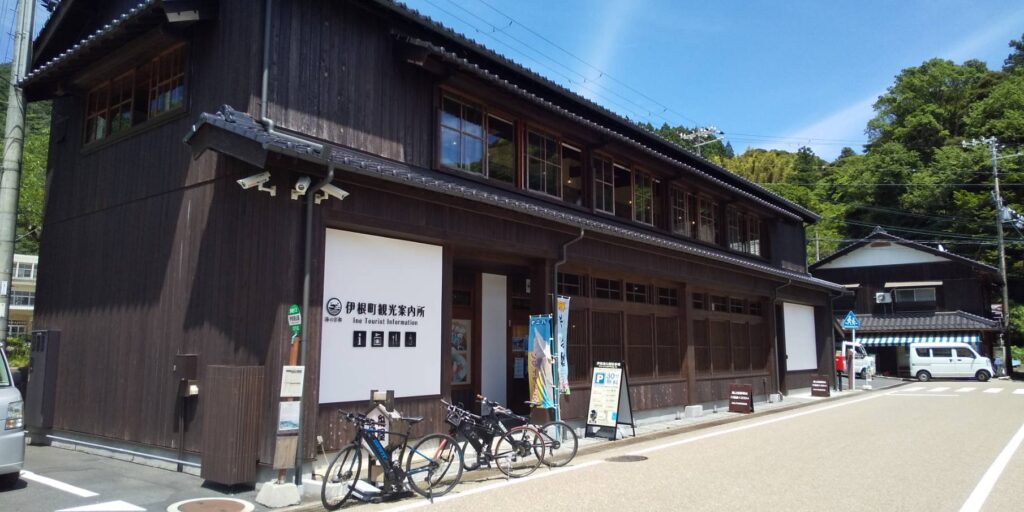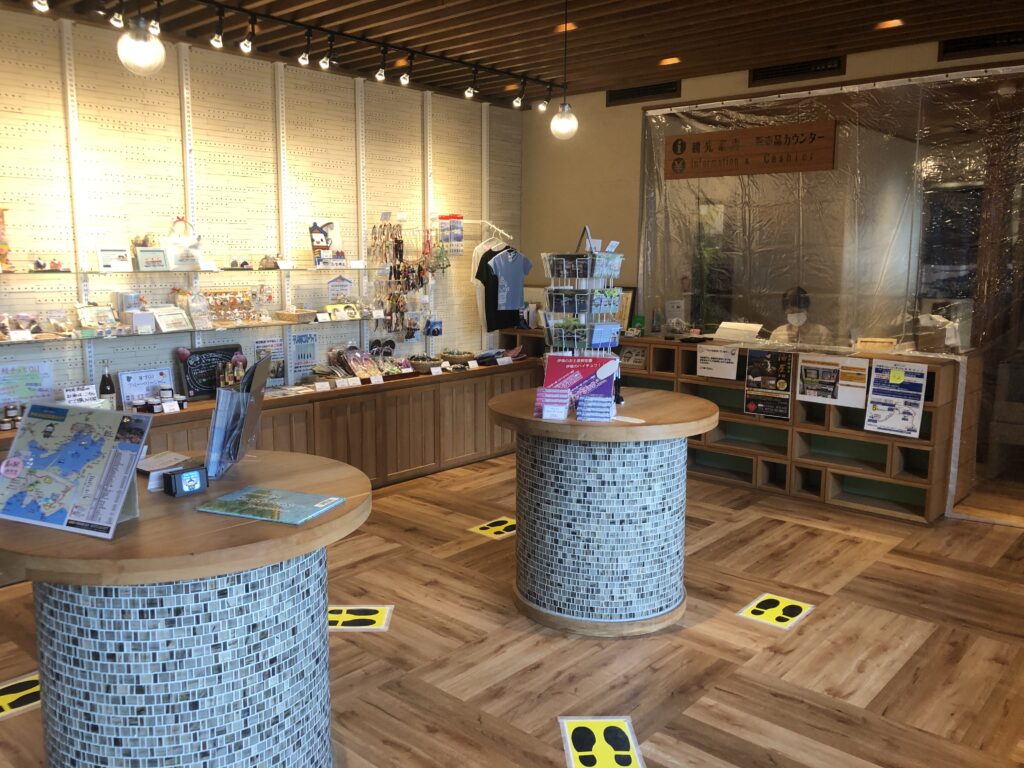 2. Shichimensan Parking Lot
Shichimenzan parking lot is a parking lot and wharf in the center of Ine, and most of the pictures of Ine were taken here. That's because this is the spot where you can see the front of boathouses most nearest. I always take pictures of my bikes here too.
This is a landing place for small pleasure boats called marine taxis, a spot for fishing, and a spot for painting.
At least for me, just watching the crystal clear waters and schools of fish swimming around here is fun.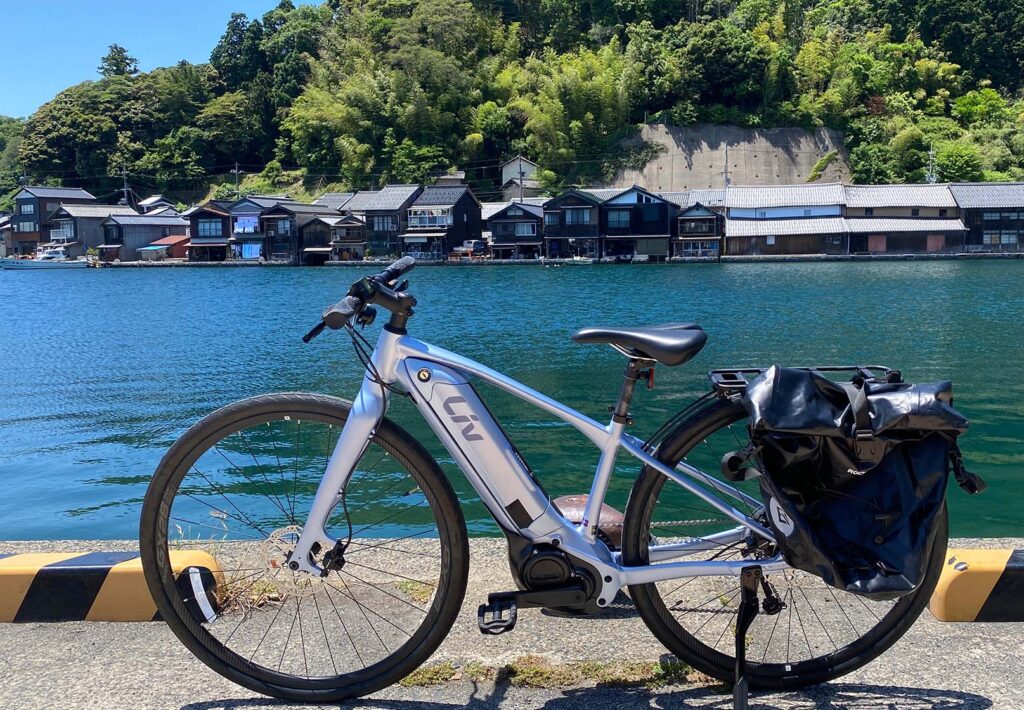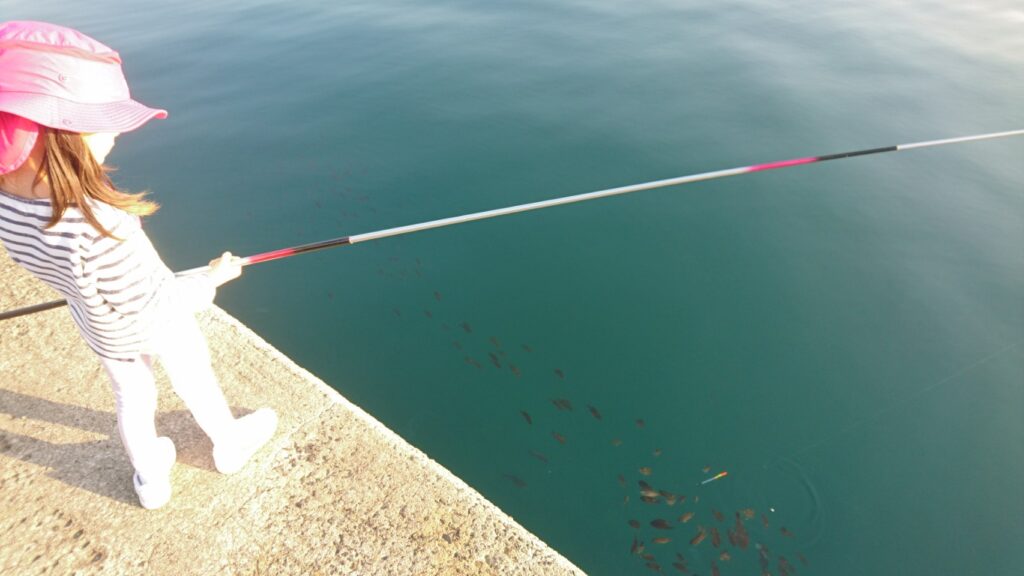 3. Roadside Station Funaya no Sato Ine
It is a scenic spot overlooking the entire Ine Bay. It was once ranked 8th in Japan's Roadside Station Ranking on Trip Advisor.
There are three restaurants and a souvenir shop, and the taste is also delicious. It is a precious place in Ine where there are few restaurants.
When I first came to Ine, I watched the scenery from here for about an hour. It's such a beautiful and relaxing place.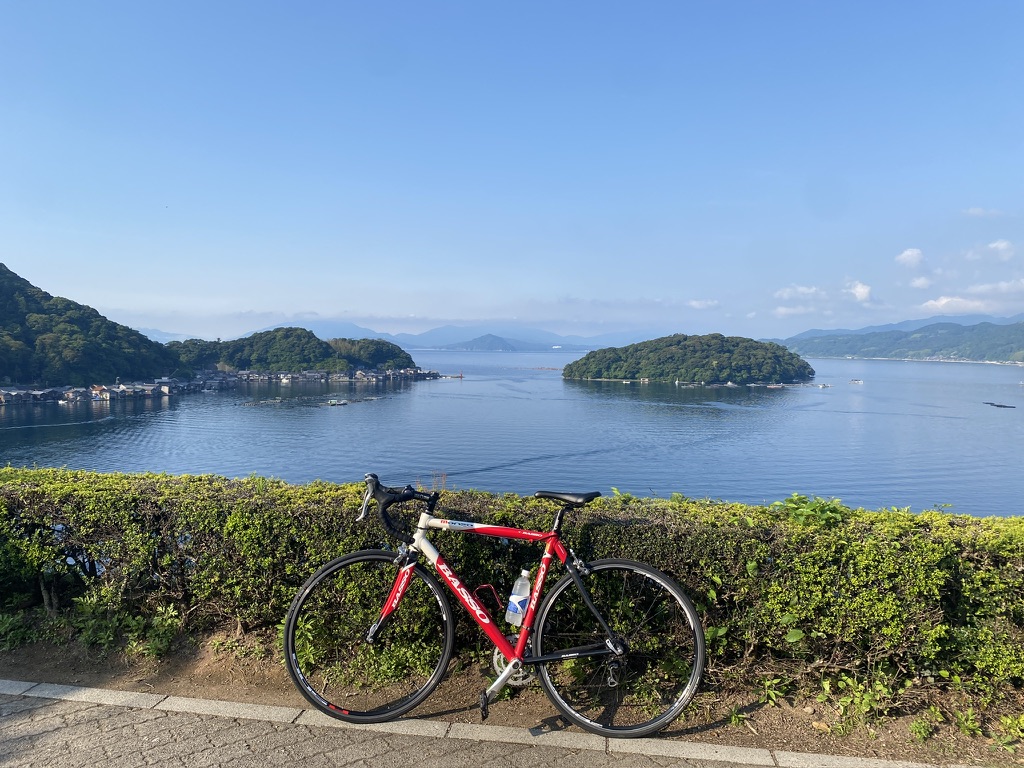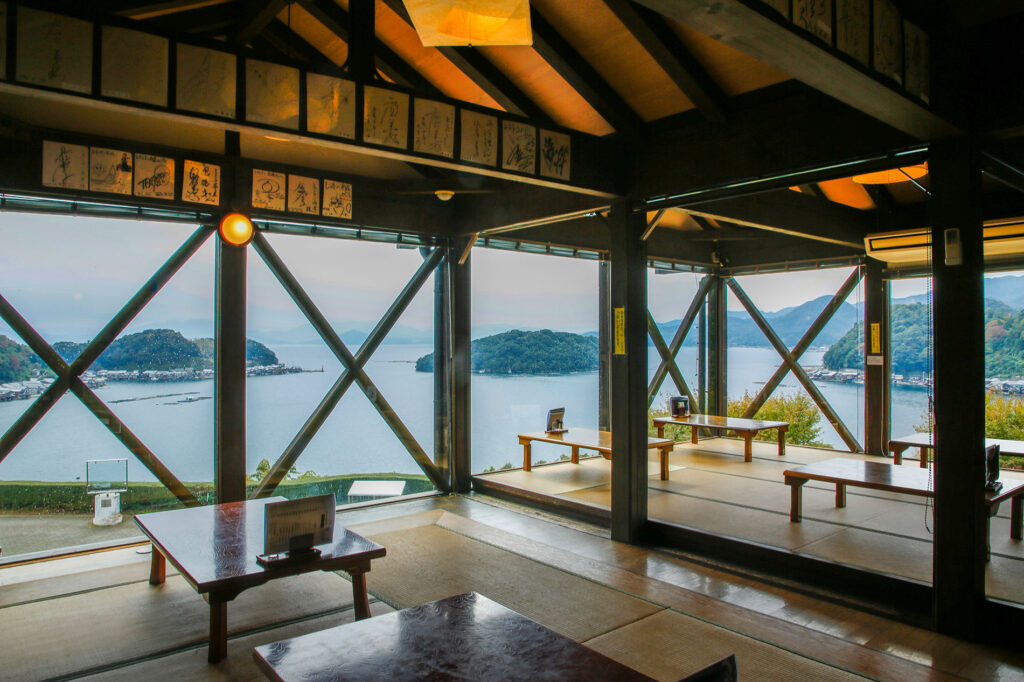 4. Funaya Biyori / INE CAFE
Funaya Biyori is a facility that combines a cafe and a restaurant.
The restaurant called Wadatsumi is a bit expensive but very delicious. Also open at night.
Ine Cafe, which you might see a lot on Instagram, is a cafe with a great seaside view. Cakes are also delicious. A lunch menu is also available on holidays.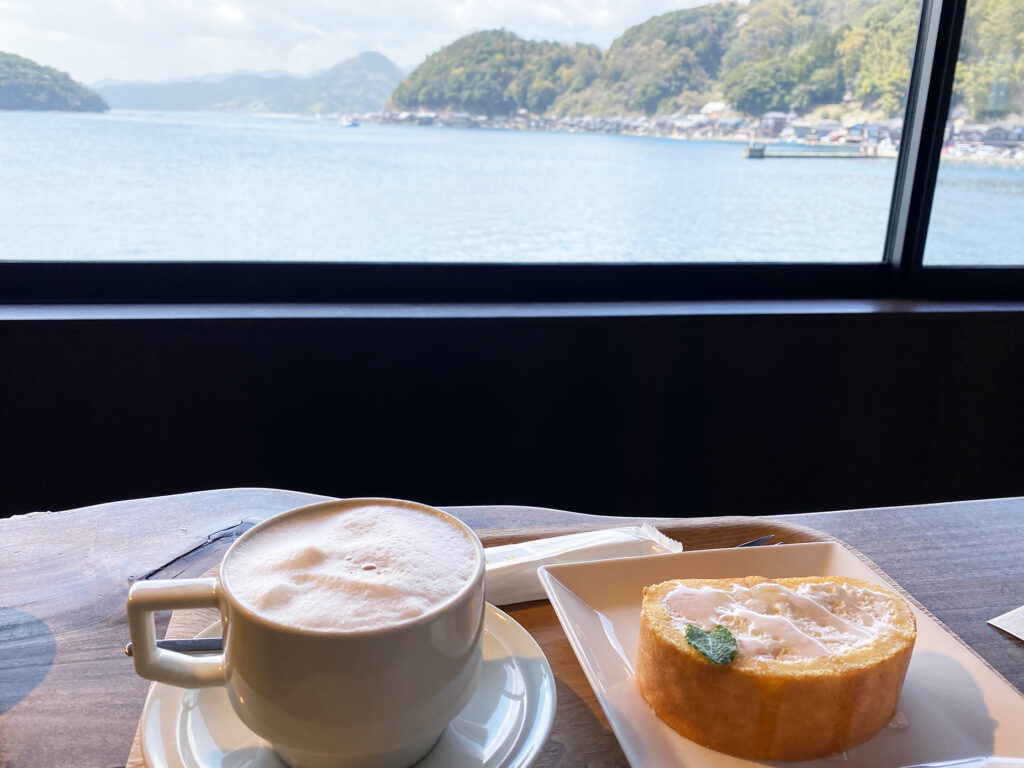 5. Uranagi maru
When you come to Ine, you definitely want to eat seafood.
Roadside Station and Wadatsumi, which I mentioned, are delicious enough, but this Uranagi Maru is directly managed by the fishing port, and the sushi and boiled fish are especially delicious. If you don't have a line, you are lucky, so let's eat there.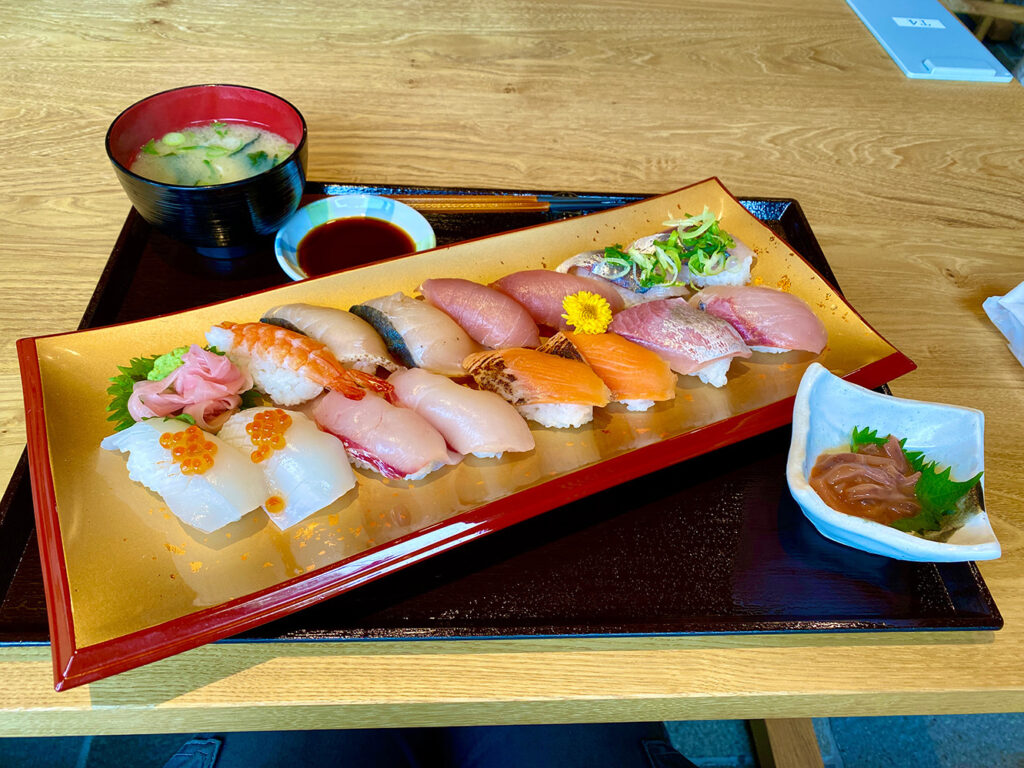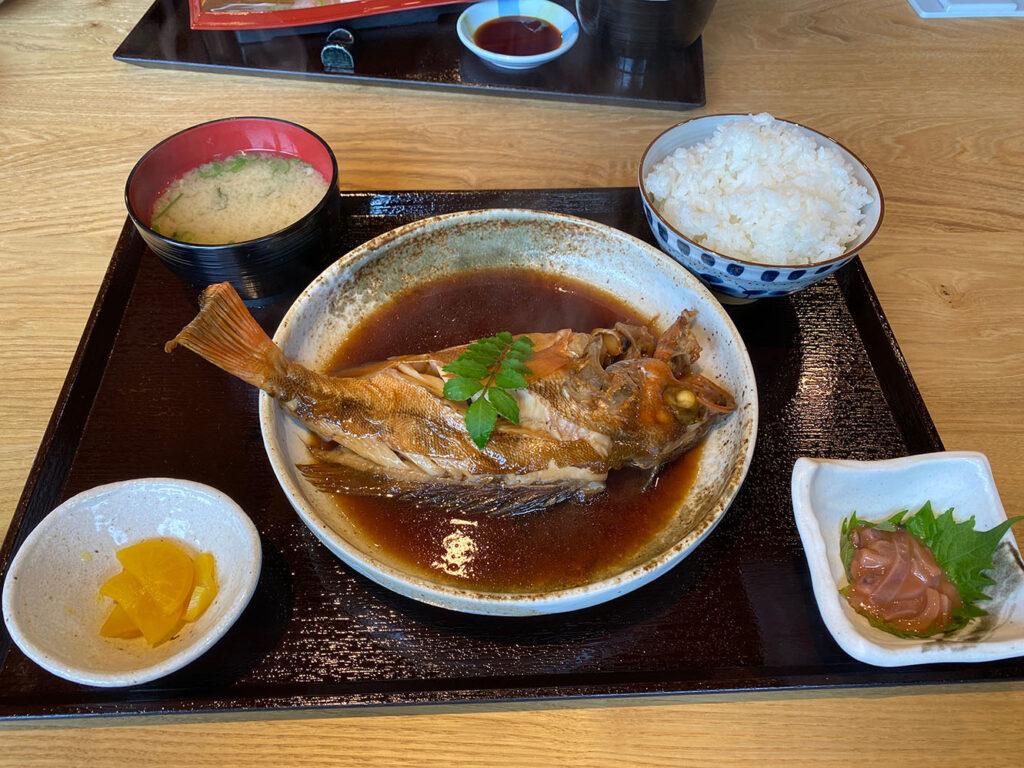 6. Mukai Sake Brewery
There you can buy sake directly in the brewery. The inside itself is interesting, and the smell of alcohol is also a good. Processed products made from alcohol, such as ice cream and sweets, are also attractive.
When it comes to souvenirs from Ine, the first thing that comes to mind is "Ine Mankai". Normal sake is transparent, but this one is made from red rice and has a natural red color without the use of artificial coloring.
The taste is very fruity, and the taste is halfway between wine and sake, so even people who are not familiar with sake can easily drink it.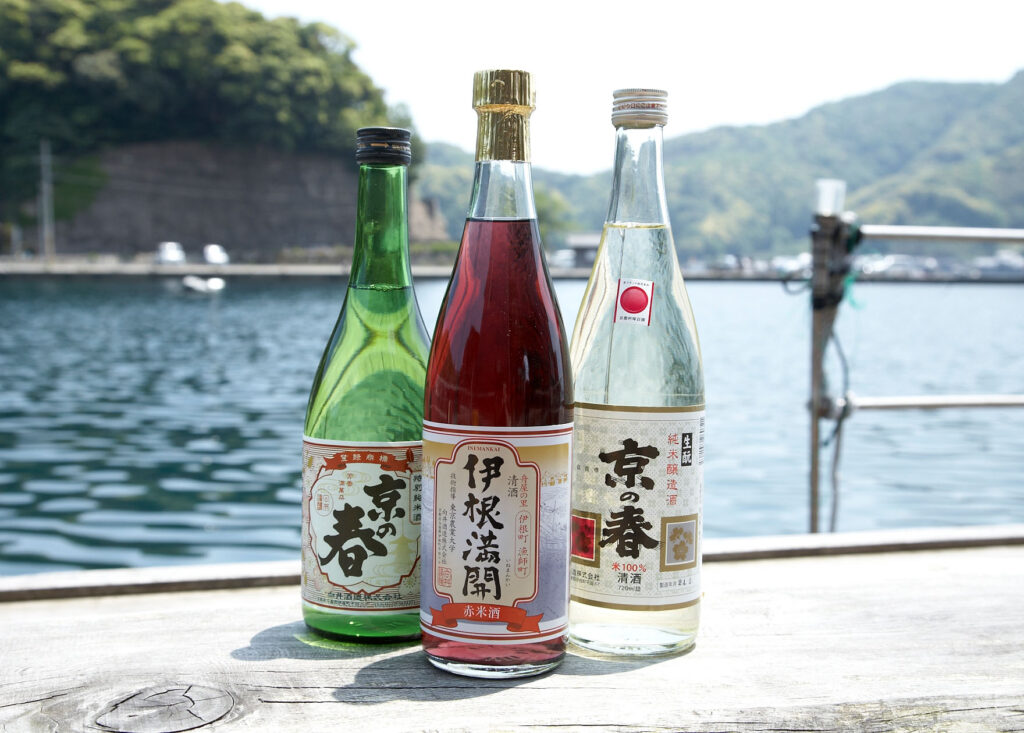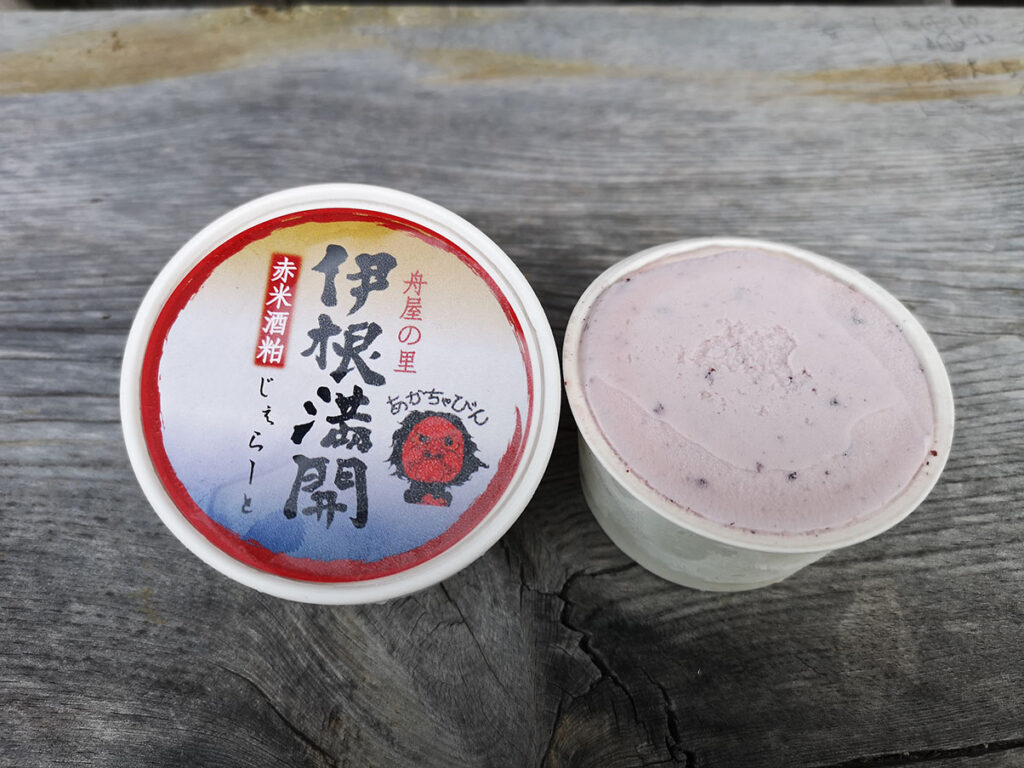 7. Tour of the inside of boathouse
Boathouses are the residence where people live normally, so you can't enter without permission.
However, some boathouses are open to the public for a fee or free of charge.
When you rent our E-Bike or join in our tour, we will tell the detail. Sorry, if we open it up, a lot of people will go there and that could be a problem.
The town is fishermen's, and tourism is a newcomer.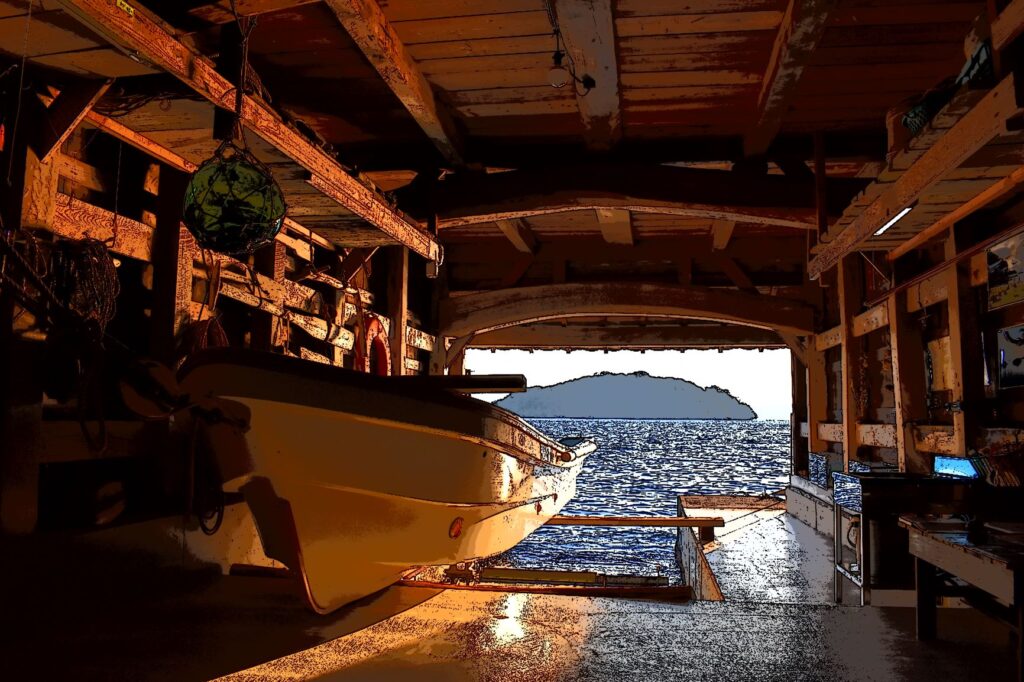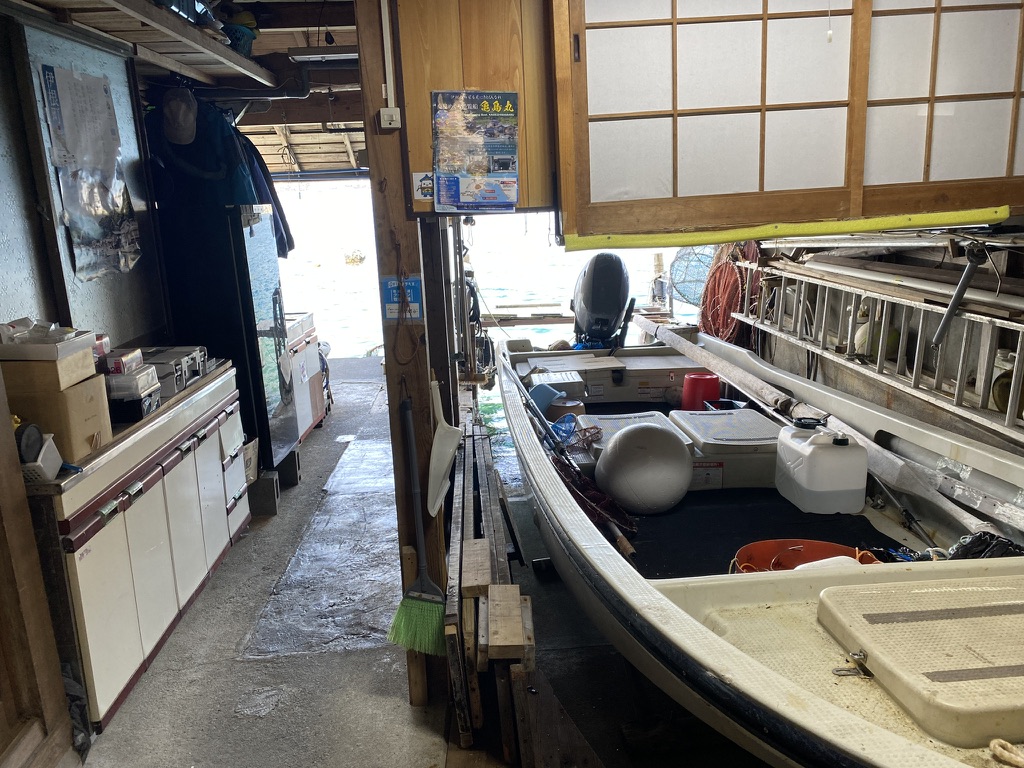 8. Ine bay tour boat
There are large and small pleasure boats. The larger one departs from the pleasure boat boarding area, and the smaller one departs from the Shichimensan parking lot.
These price is same 1000 yen. Cruising time is about 30min.
The big one is safe even if the weather is bad, and the small one can go closer to the boathouses.
The experience of giving snack to seagulls is surprisingly interesting.
Personally, I love the fish croquettes that are sold at the cruise ship boarding area.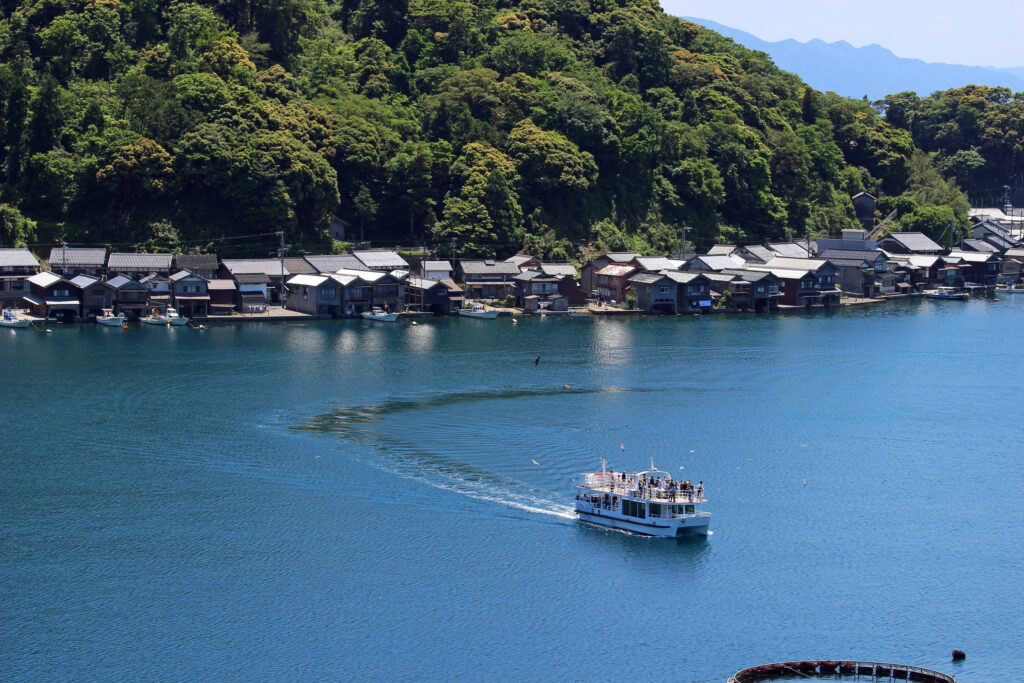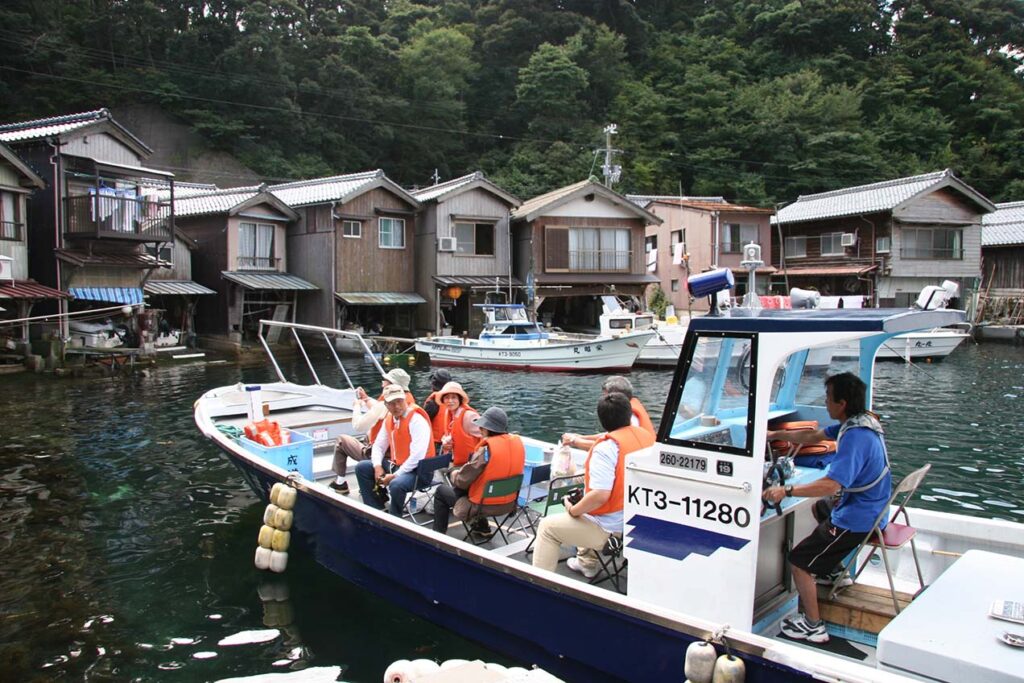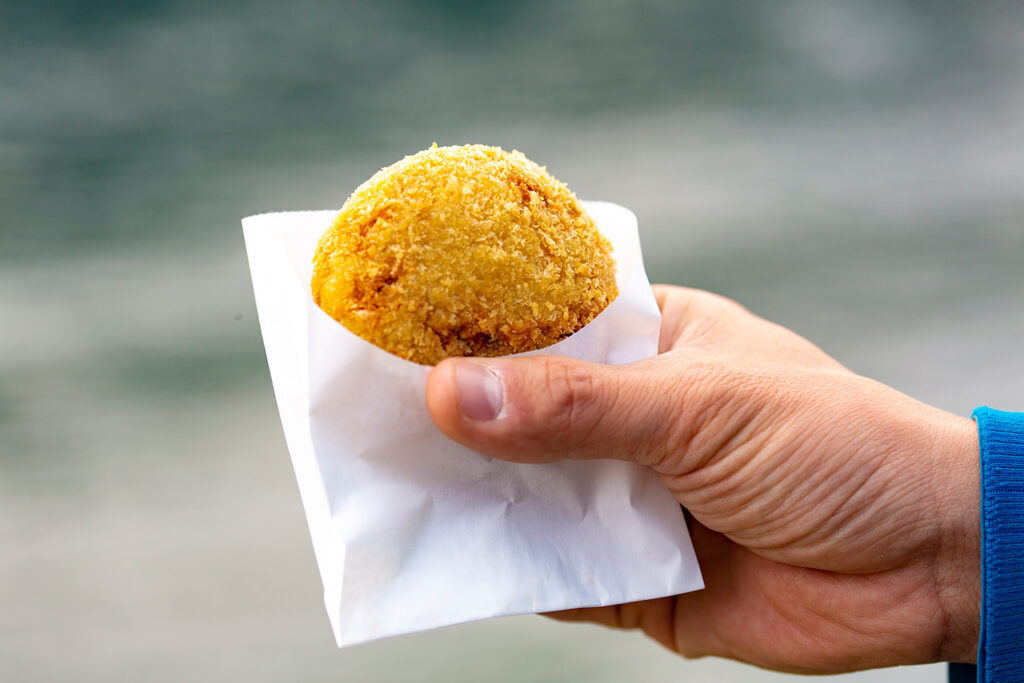 9. Nii Rice Terraces
The rice terraces are located about 3 km north of Ine Bay, and the scenery with the sea as a background is very beautiful.
It is filled with water in spring, green in summer, and yellow in autumn, and each season is worth seeing.
It's the perfect place to ride your E-Bike.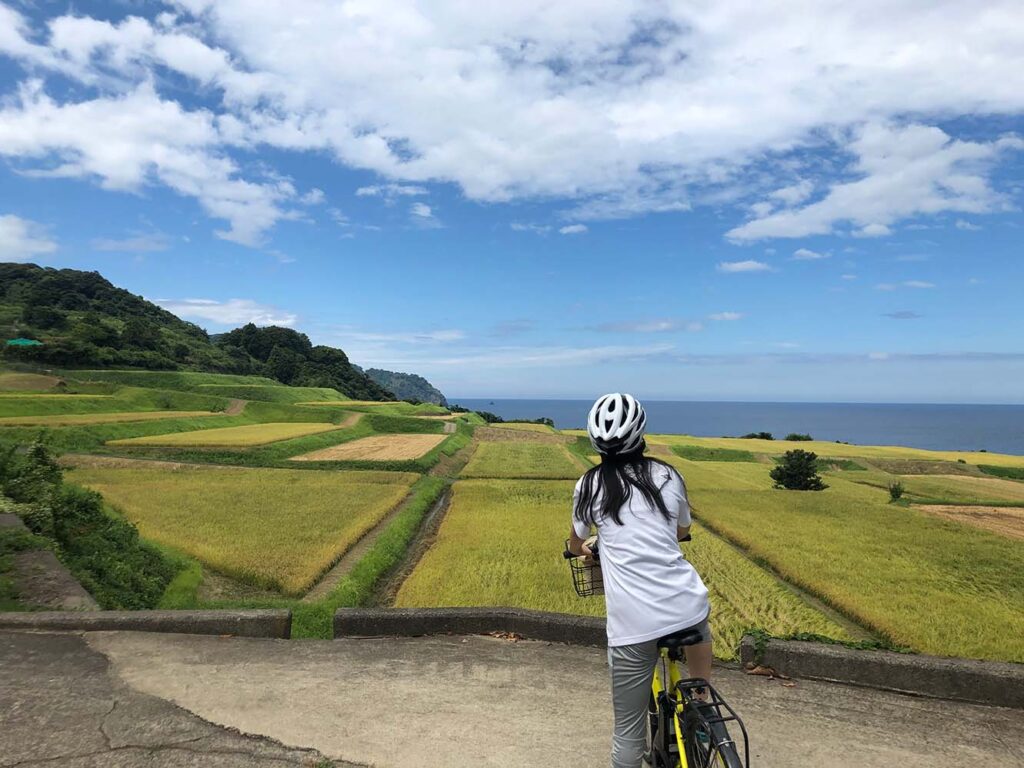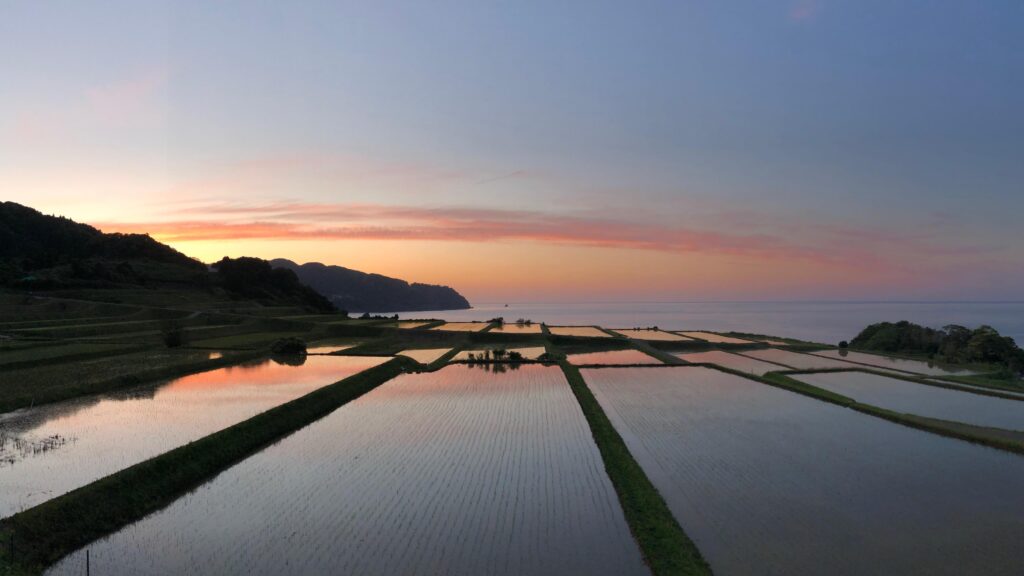 10. Ine Fishery Port
Unfortunately, this is only available to those staying at Ine. Approximately two hours after sunrise, the landing of fish begins at Ine fishing port. Residents can buy fish directly there.
The fishing port is full of people and machines moving around, so it's dangerous to enter unless you're a local, but just looking at it from the outside is very lively and interesting.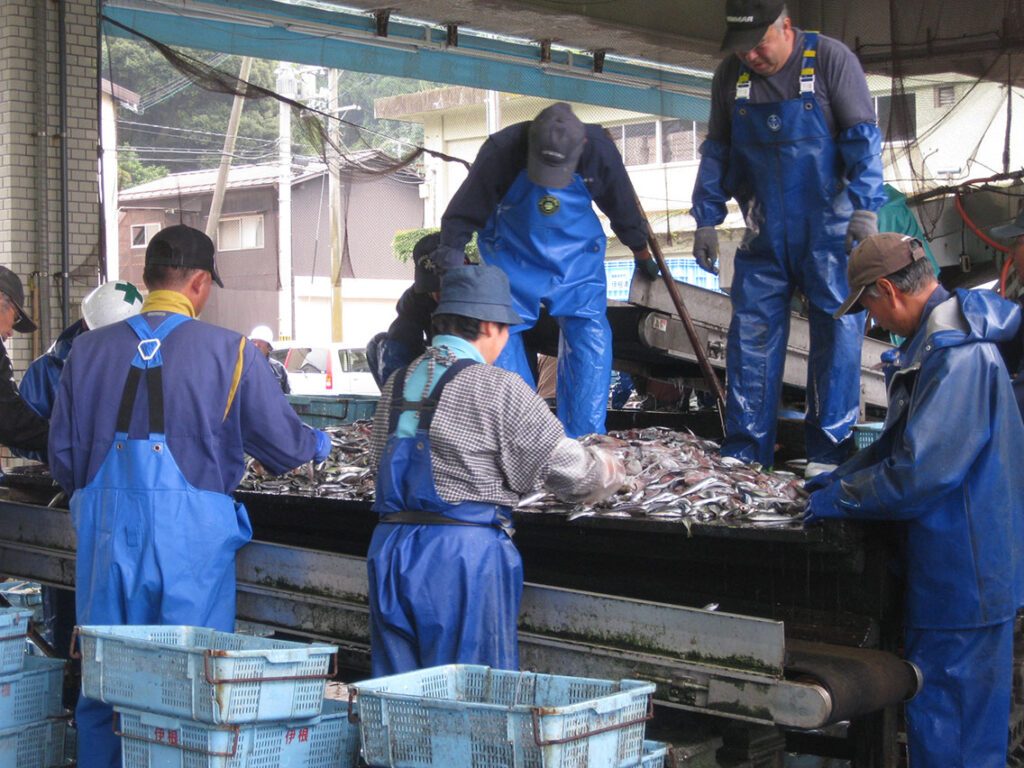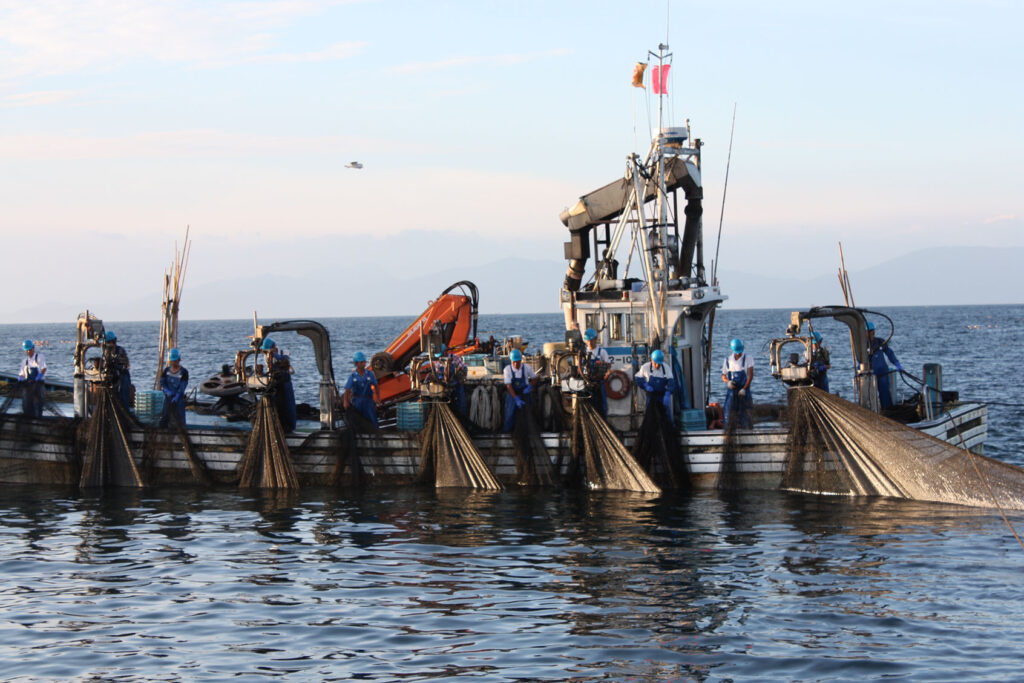 0. Stay in Boathouse
There are nearly 30 boathouse inns in Ine. Staying in a funaya is a strange and fun experience in itself. It's like having the ocean right under your house and you can hear the waves all the time.
Moreover, most of the inns are for one group only, and some inns have their own private hot springs.
However, Funaya Inns are so popular these days that it is difficult to make a reservation even two months in advance.
Even if you can't stay in a funaya house, just staying in Ine is fun enough, so please stay!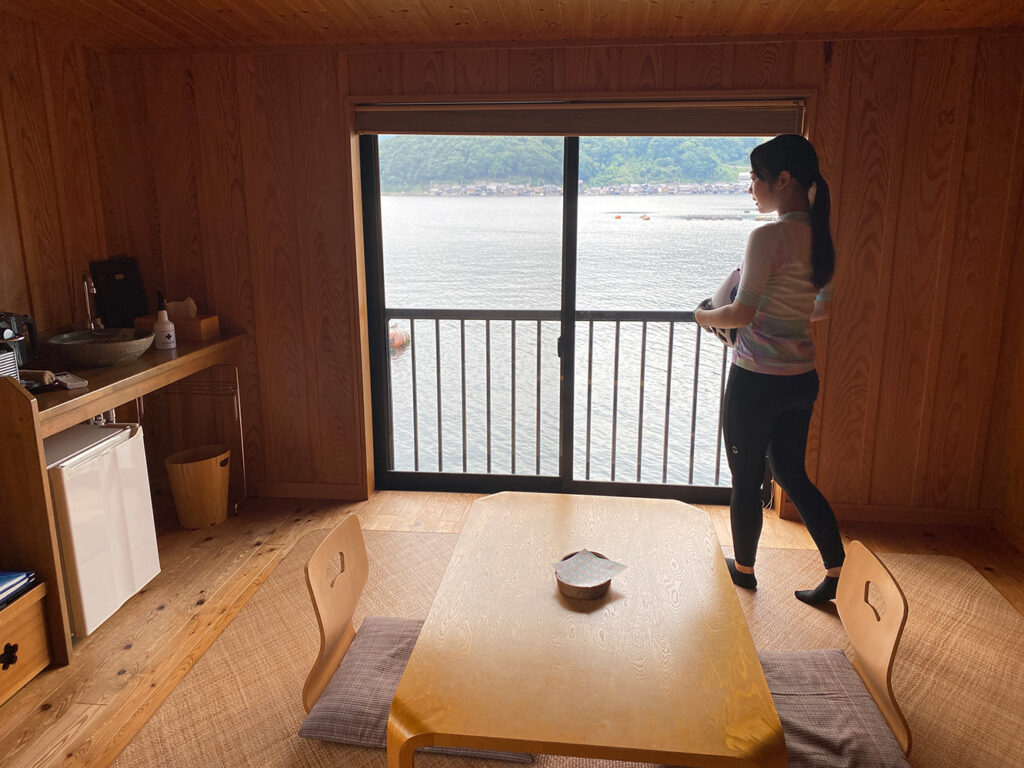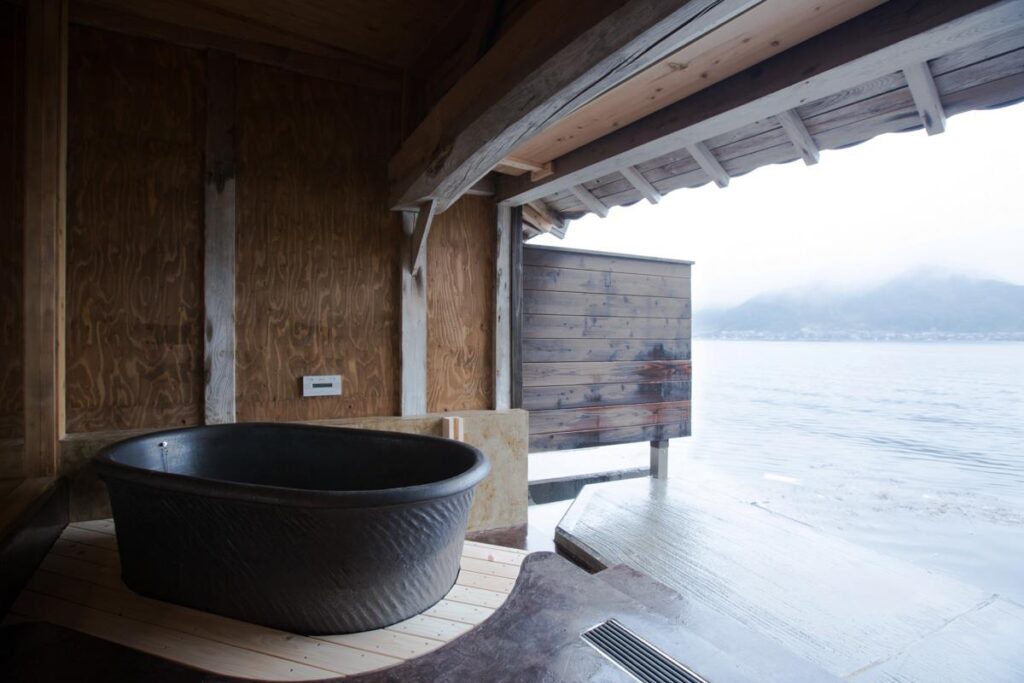 Model Course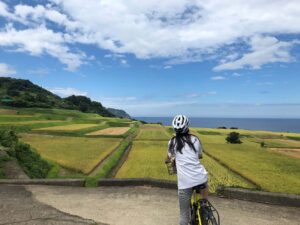 [For Beginners] Distance 11.2km/
Touring time 1h/ Cumulative elevation 256m/ Rental spot: Ine Hide Base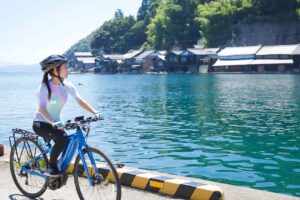 [For Beginners] Distance 20km(Oneway)/
Touring time 1h(Oneway)/ Cumulative elevation 104m/ Rental spot: Amanohashidate